Posted on Jan 3, 2018 in
Blog
|
0 comments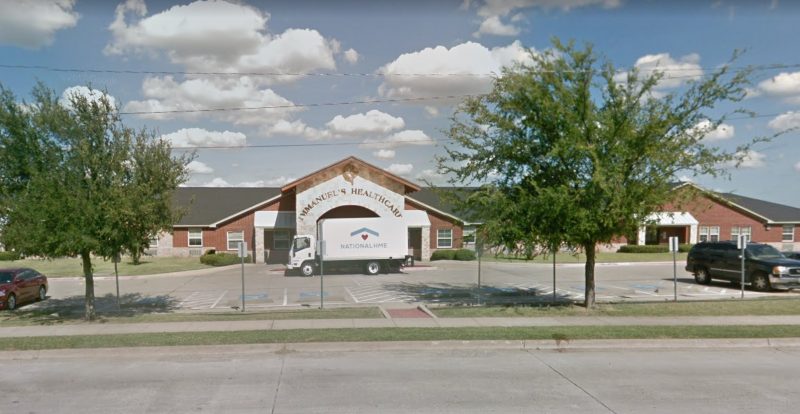 IMMANUEL'S HEALTHCARE
LOCATED: 4515 VILLAGE CREEK RD, FORT WORTH, TX 76119
IMMANUEL'S HEALTHCARE was cited by the DEPARTMENT OF HEALTH AND HUMAN SERVICES CENTERS FOR MEDICARE & MEDICAID SERVICES for the following deficiencies:
PLEASE NOTE: The following highlighted quoted text is only a portion of the full report/survey submitted by DEPARTMENT OF HEALTH AND HUMAN SERVICES CENTERS FOR MEDICARE & MEDICAID SERVICES. The full report/survey can be found here.
FACILITY FAILED TO PROVIDE NECESSARY CARE AND SERVICES TO MAINTAIN THE HIGHEST WELL BEING OF EACH RESIDENT.
**NOTE- TERMS IN BRACKETS HAVE BEEN EDITED TO PROTECT CONFIDENTIALITY**
Based on observation, interview and record review, the facility failed to provide the necessary care and services to attain or maintain the highest practicable physical, mental and psychosocial well-being, in accordance with the comprehensive assessment and plan of care, for one (Resident #6) of eight residents reviewed for wound care.
The facility failed to provide Resident #6 with an effective pain management program to address wound care to a Stage 4 pressure injury on her sacrum.

ADON A failed to stop wound care treatment to Resident #6's Stage 4 pressure injury when the resident displayed signs and symptoms of pain to include grimacing, moaning, crying out, and verbalizing that she was in pain.
These failures could affect the seven residents with pressure injuries by placing them at risk for discomfort, pain, and emotional distress.
An observation on 08/29/16 at 10:00 a.m. revealed ADON A provided wound care for to the Stage 4 pressure injury on Resident #6's sacrum (tailbone), and CNA B and CNA C assisted her. The resident was turned to her left side, and ADON A removed the dressing covering the sacral wound. The resident's tailbone was visible through the wound. Resident #6 grimaced, moaned, and cried out during this care. She also complained of pain in her leg during the care. The resident continued to moan as ADON A cleaned the wound with normal saline and patted the area dry with gauze. The resident cried out, You're hurting me! CNA B stated the resident had been medicated for pain 45 minutes prior to the procedure. CNA C stated Resident #6 usually moaned and complained of pain when she received wound care treatments. ADON A continued with the wound care, and the resident continued to cry out, Oh, Oh! Both CNAs apologized to the resident. ADON A then inserted green foam into the wound, and Resident #6 used her right hand to push ADON A and CNA B's hands away from her wound. Resident #6 stated, Leave me alone. It hurts. Oh! Oh! It hurts. Leave me alone. Get off me. Leave me alone. ADON A told the resident, I'm so sorry, and continued the dressing change. ADON A did not assess the resident's level of pain. CNA B then asked ADON A if she wanted her to see if there was any other pain medication for the resident, and ADON A said,
Yes. Next, ADON A attached the [DEVICE] (negative pressure device) to the wound, and the resident continued to try to push ADON A's hand away from her wound. CNA B returned to the room and told ADON A that they would need to stop the wound care because the resident had no more pain medication scheduled. The resident was repositioned and stopped moaning and crying out. The procedure lasted until 10:23 a.m.
An interview on 08/29/16 at 10:23 a.m. with ADON A revealed she did not know Resident #6's level of pain during the wound care. She acknowledged Resident #6 seemed to be in pain during the procedure. At that time, ADON A asked the resident what her level of pain was on a scale from zero to ten with ten being the worst pain experienced. Resident #6 stated her pain was an eight.
Personal Note from NHA–Advocates: NHAA shares with all the families of loved ones who are confined to nursing homes the pain and anguish of putting them in the care of someone else. We expect our loved ones to be treated with dignity and honor in the homes we place them. We cannot emphasize enough to family members of nursing home residents; frequent visits are essential to our loved ones' well-being and safety. This nursing home and many others across the country are cited for abuse and neglect.