Posted on Aug 19, 2016 in
Blog
|
0 comments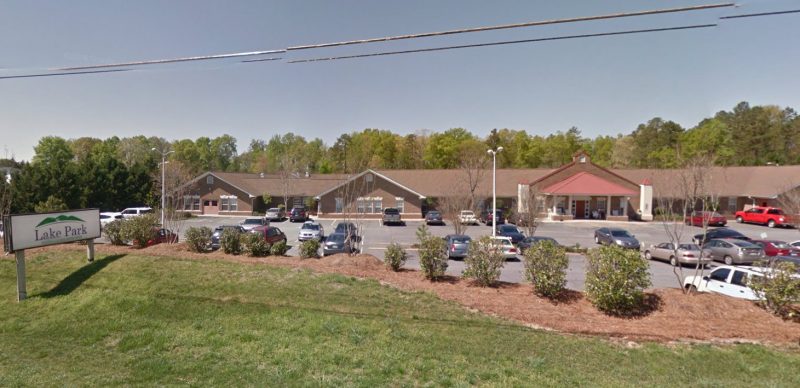 LAKE PARK NURSING AND REHABILITATION CENTER
LOCATED: 3315 FAITH CHURCH ROAD, INDIAN TRAIL, NC 28079
LAKE PARK NURSING AND REHABILITATION CENTER was cited by the DEPARTMENT OF HEALTH AND HUMAN SERVICES CENTERS FOR MEDICARE & MEDICAID SERVICES for the following deficiencies:
PLEASE NOTE: The following highlighted quoted text is only a portion of the full report/survey submitted by DEPARTMENT OF HEALTH AND HUMAN SERVICES CENTERS FOR MEDICARE & MEDICAID SERVICES. The full report/survey can be found here.
FACILITY FAILED TO DEVELOP POLICIES THAT PREVENT MISTREATMENT, NEGLECT, OR ABUSE OF RESIDENTS OR THEFT OF RESIDENT PROPERTY.
LEVEL OF HARM –IMMEDIATE JEOPARDY
**NOTE- TERMS IN BRACKETS HAVE BEEN EDITED TO PROTECT CONFIDENTIALITY**
Based on record review, staff interviews and police interview, the facility failed to immediately intervene and stop sexual abuse when observed, failed to immediately remove the perpetrator from resident areas, failed to immediately call law enforcement to report a crime and failed to immediately assess the resident for injuries. In addition the abuse policy did not include the resident involved in abuse would be assessed for injuries, when the assessment would occur, who would assess the resident, when the law enforcement would be notified of a crime and by whom. This affected 1 of 4 residents reviewed for abuse. (Resident #1).
Immediate Jeopardy began on 01/06/16 when Nurse #1 observed a nurse aide place his penis in Resident #1's mouth, shut the door without intervening while the abuse was occurring, and then Nurse #1 and Nurse #2 allowed the perpetrator to move about the facility unsupervised while they called administration for instructions. Immediate Jeopardy was removed on 01/15/16 at 11:06 AM when the facility provided and implemented an acceptable credible allegation of compliance. The facility remains out of compliance at a lower scope and severity of D (isolated, no actual harm with potential for more than minimal harm, that is not immediate jeopardy) to complete education and to ensure monitoring systems put into place are effective related to protecting residents from being abused.
Nurse #1 was interviewed on 01/13/16 at 7:12 AM. Nurse #1 stated that on 01/06/16 at approximately 3:30 AM to 4:00 AM, she tried to enter Resident #1's room to check her Wanderguard. The door was completely closed and when she tried to open it, the door hit against Resident #1's footboard of her bed. When her second attempt to open the door was unsuccessful, she looked into the opening of the doorway, which she stated was approximately 6 inches open, enough where she could readily see into the room but not fit her head through the doorway. Nurse #1 stated she saw Nurse Aide (NA) #1 standing next to Resident #1's bed, with his right hand holding the Resident #1's head, his left hand holding his penis, and he was pushing Resident #1's head forward and placing his penis into Resident #1's mouth. Resident #1 made no movement, her eyes were barely open and she had no reaction. Nurse #1 stated she stood there long enough to make sure she saw what she thought she saw and when he placed his penis in Resident #1's mouth a second time, she shut the door without saying a word to NA #1 and went to another hall to get Nurse #2 to witness the incident. Nurse #1 stated there was a light on in the room which enabled her to see the incident. Nurse #1 could not recall passing any other staff member as she made her way down 200 hall, onto 100 hall and down to the end of 700 hall to find Nurse #2 at the nursing station. Nurse #1 stated on the way back to Resident #1's room, she told Nurse #2 what she saw NA #1 do to Resident #1. She stated she saw NA #1 at the 100 hall kiosk on the way back to Resident #1's room but did not speak to him. When Nurse #1 and Nurse #2 got to Resident #1's room, the resident was in bed, the bed was lowered to the floor and she was covered with linen. The two nurses then went to the 300 hall nursing station and called the Assistant Director of Nursing (ADON). Nurse #1 stated the ADON instructed her to get a drug screen, remove NA #1 from the patient care areas, and escort him out of the building.
Personal Note from NHA-Advocates: NHAA shares with all the families of loved ones who are confined to nursing homes the pain and anguish of putting them in the care of someone else. We expect our loved ones to be treated with dignity and honor in the homes we place them. We cannot emphasize enough to family members of nursing home residents; frequent visits are essential to our loved ones' well-being and safety. This nursing home and many others across the country are cited for abuse and neglect.
You can make a difference. If you have a loved one living in this nursing home or any other nursing home where you suspect any form of abuse or neglect, contact us immediately.
We can help you and your loved one file a state complaint, hire a specialized nursing home attorney or help you find a more suitable location for your loved one.
Contact us through our CONTACT FORM located on our website here below or on the sidebar or call our toll free hot line number: 1-800-645-5262.

You can make a difference even if your loved one has already passed away.