Posted on Feb 11, 2015 in
Blog
|
4 comments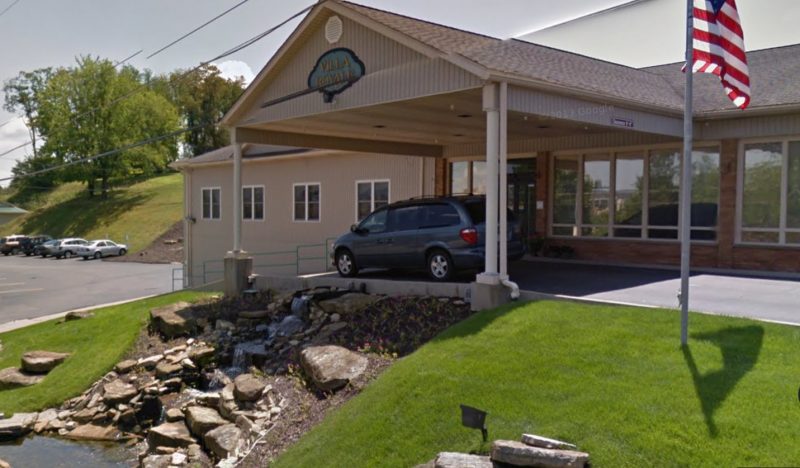 LANCIA VILLA ROYALE
LOCATED: 1852 SINCLAIR AVENUE, STEUBENVILLE, OH 43953
LANCIA VILLA ROYALE was cited by the DEPARTMENT OF HEALTH AND HUMAN SERVICES CENTERS FOR MEDICARE & MEDICAID SERVICES for the following deficiencies:
PLEASE NOTE: The following highlighted quoted text is only a portion of the full report/survey submitted by DEPARTMENT OF HEALTH AND HUMAN SERVICES CENTERS FOR MEDICARE & MEDICAID SERVICES. The full report/survey can be found here.
FACILITY FAILED TO PROVIDE STAFF ASSISTANCE TO PREVENT UNRESTRAINED FORWARD MOTION DOWN AN OUTDOOR INCLINE LEADING TO A ROCK PATCH AND A TWO LANE HIGHWAY FOR A RESIDENT WHILE IN A WHEELCHAIR
Level of harm – Immediate Jeopardy
Based on observation, medical record review, policy review, review of facility admission packet, resident interview and
staff interview, the facility failed to ensure Resident #40 was provided appropriate staff assistance and supervision to prevent unrestrained forward motion down an outdoor incline leading to a rock patch and a two lane highly traveled highway while in a wheelchair. This resulted in Immediate Jeopardy for one resident (Resident #40) of four residents identified by the facility that utilized the front entrance in a wheelchair. In addition one resident sustained [REDACTED].#21) and the facility failed to secure a narcotic medication out of the reach of five confused, independently mobile residents (Resident #24, #29, #36, #59 and #60). The facility census was 62. The administrator and director of nursing (DON) were notified on 07/23/14 at 5:00 P.M. that Immediate Jeopardy began on 07/22/14 at 1:40 P.M. when the receptionist was observed opening the secured front door to permit exit from the facility for Resident #40 who was seated in a wheelchair. Resident #40 was observed being unable to maintain control of the wheelchair and swerved to the right and down an incline toward a raised concrete curb that separated the path from a rock and boulder patch and a two lane highly traveled highway. Resident #40 reported increased pain and drainage from a recently repaired fractured ankle site and emotional trauma as a result of the incident.
Personal Note from NHAA Advocates: NHAA shares with all the families of loved ones who are confined to nursing homes the pain and anguish of putting them in the care of someone else. We expect our loved ones to be treated with dignity and honor in the homes we place them. We cannot emphasize enough to family members of nursing home residents; frequent visits are essential to our loved ones' well-being and safety. This nursing home and many others across the country are cited for abuse and neglect.
You can make a difference. If you have a loved one living in this nursing home or any other nursing home where you suspect any form of abuse or neglect, contact us immediately. We can help you file a state complaint, hire a specialized nursing home attorney or help you find a more suitable location for your loved one.
Contact us through our CONTACT FORM located on our website here or call our toll free hot line number: 1-800-645-5262
You can make a difference even if your loved one has already passed away.