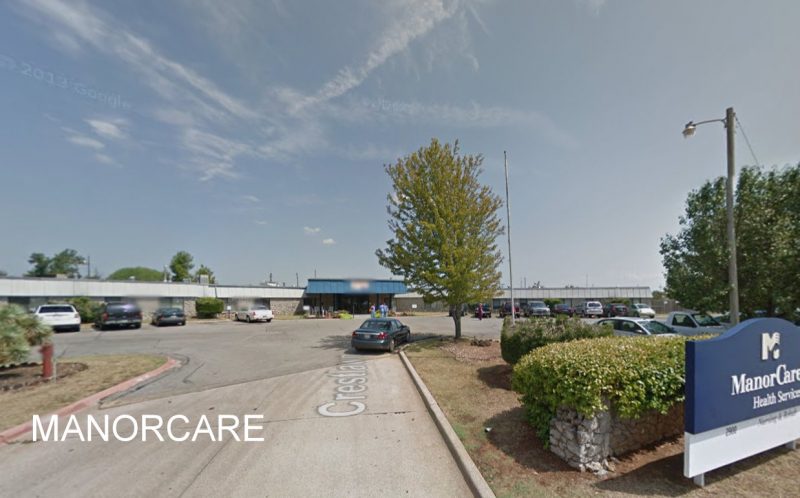 MANORCARE HEALTH SERVICES – MIDWEST CITY
LOCATED: 2900 PARKLAWN DRIVE, MIDWEST CITY, OK 73110
MANORCARE HEALTH SERVICES-MIDWEST CITY was cited by the DEPARTMENT OF HEALTH AND HUMAN SERVICES CENTERS FOR MEDICARE & MEDICAID SERVICES for the following deficiencies:
PLEASE NOTE: The following highlighted quoted text is only a portion of the full report/survey submitted by DEPARTMENT OF HEALTH AND HUMAN SERVICES CENTERS FOR MEDICARE & MEDICAID SERVICES. The full report/survey can be found here.
FACILITY FAILED TO PROVIDE NECESSARY CARE AND SERVICES TO MAINTAIN THE HIGHEST WELL BEING OF EACH RESIDENT
LEVEL OF HARM –IMMEDIATE JEOPARDY
**NOTE- TERMS IN BRACKETS HAVE BEEN EDITED TO PROTECT CONFIDENTIALITY**
On 07/13/15, an Immediate Jeopardy (IJ) situation was determined to exist due to the facility's failure to follow physician's orders for a resident who had a PleurX drain that was to be changed every other day. The resident was sent to the emergency room per family request and was admitted with a diagnosis of Pleural effusion and Hypoxia.
Findings:
1. Resident #1 was admitted to the facility with diagnosis which included Lung Cancer with Malignant Effusion, Lung Mass and Acute Hypoxic Respiratory Failure.
A physician's order, dated 03/14/15, documented, " … The catheter was placed for refractive pleural effusion and requires drainage … Every other day … signed [Physician name deleted] …"
An ED Provider note, dated 03/28/15 at 5:10 p.m., documented, "…Chief Complaint… Shortness of Breath 83% on 5L/NC …He was at [Nursing facility name deleted] and they checked his SpO2 and it was 85% on 5L NC O2 so they called EMS to bring him in … Reports he has a 'plurex' in his left lung that hasn't been drained since last Sunday …
At 1:09 p.m., the DON was asked if the PleurX was changed as ordered. She stated, "It is not documented but I made sure all the nurses knew and were comfortable with doing it, but no, they were not done. We were not aware until after he was sent to the hospital." She was asked who made the facility aware. She stated the son informed the facility when he came to pick up the resident's personal belongings.
At 2:40 p.m., LPN #1 was asked what the condition of the resident was during her shift the day he was discharged to the hospital. She stated, "When I first received him his sats were in the 7O's." She was asked what time did she assume his care. She stated that she was working the 7 -3 day shift. She was asked what she did for the decreased saturations. She stated, "I increased his oxygen to 5 liters to get them up. He had no lung sounds on the left and decreased sounds in the right side. I called the physician and called family. The physician wanted to keep the saturations above 80%. I continued to monitor him and his O2 sats came up to 83% but during the next shift he worsened while I was still there, so I called the physician to let him know the family wanted him sent out to the hospital. He gave the order to send him to the hospital."
She was asked if she noticed anything different with the pleurx drain. She stated, "The pleur vac drain was full. No one had been changing." She was asked if she changed it at that time. She stated, "No, I didn't."
Personal Note from NHAA Advocates: NHAA shares with all the families of loved ones who are confined to nursing homes the pain and anguish of putting them in the care of someone else. We expect our loved ones to be treated with dignity and honor in the homes we place them. We cannot emphasize enough to family members of nursing home residents; frequent visits are essential to our loved ones' well-being and safety. This nursing home and many others across the country are cited for abuse and neglect.
You can make a difference. If you have a loved one living in this nursing home or any other nursing home where you suspect any form of abuse or neglect, contact us immediately.
We can help you file a state complaint, hire a specialized nursing home attorney or help you find a more suitable location for your loved one.
Contact us through our CONTACT FORM located on our website here below or on the sidebar or call our toll free hot line number: 1-800-645-5262.
You can make a difference even if your loved one has already passed away.