Posted on Feb 18, 2015 in
Blog
|
4 comments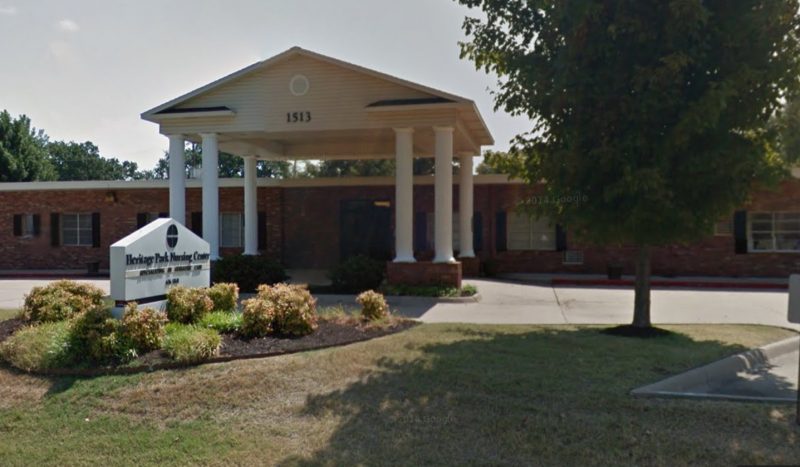 HERITAGE PARK NURSING CENTER
LOCATED: 1513 SOUTH DIXIELAND RD, ROGERS, AR 72756
HERITAGE PARK NURSING CENTER was cited by the DEPARTMENT OF HEALTH AND HUMAN SERVICES CENTERS FOR MEDICARE & MEDICAID SERVICES for the following deficiencies:
PLEASE NOTE: The following highlighted quoted text is only a portion of the full report/survey submitted by DEPARTMENT OF HEALTH AND HUMAN SERVICES CENTERS FOR MEDICARE & MEDICAID SERVICES. The full report/survey can be found here.
FACILITY FAILED TO ENSURE AGGRESSIVE BEHAVIORS WERE THOROUGHLY ASSESSED
LEVEL OF HARM – IMMEDIATE JEOPARDY
**NOTE- TERMS IN BRACKETS HAVE BEEN EDITED TO PROTECT CONFIDENTIALITY**
Complaint # (AR 372) was substantiated, all or in part, Based on observation, record review and interview, the facility failed to ensure resident aggressive behaviors were thoroughly assessed for causative factors with interventions developed and implemented based on results of assessment.

Continuing: The failed practices resulted in Immediate Jeopardy, which caused or could have caused serious injury, harm or death for Resident #6, who was hit in the abdomen on two occasions, and had the potential to affect 6 other male residents who resided on the secure male unit according to the list received from the Administrator on [DATE].
Continuing: This res (Resident #6) was struck by another res as he was walking by in unit hallway-he was hit 2 x (times) in stomach (with) closed fist from other res before Nurse et (and) CNA (Certified Nursing Assistant) could intervene/get between both.
Continuing: A witness statement dated [DATE] at 7:45 a.m. and signed by CNA #2 documented, (Resident #7) was hitting (Resident #6) in stomach. c. Nurses Notes dated [DATE] at 8:20 a.m. documented, Experiencing loose stools and vomiting.
Continuing: Nurses Notes dated [DATE] at 3:30 p.m. documented, Resident's daughters without notifying staff call EMS (Emergency Medical System). Resident transferred via ambulance. Given copy of MAR (Medication Administration Record), Face Sheet. DON (Director of Nurses) notified. Nurses Notes dated [DATE] documented, D/C (discharged ) from Heritage Park per family request.
Continuing: They stated that yesterday when wife visited he was sleeping. Today he would not wake up and had runny diarrhea about every 30 minutes. No documentation of fever. In ED (Emergency Department) pt (patient) was found to have elevated WBC (white blood count) 15.4 (range 3XXX,[DATE].0). The Hospital Course documented, After evaluating pt initially, I was called by RN (Registered Nurse) that pt started vomiting. Concerned about possibility of ischemic bowel. ordered CT (computerized tomography) abd (abdomen) stat. When I went back up to evaluate pt he had just vomited again and aspirated a large amount. Suctioned out fecal looking/smelling emesis. Pt likely does have ischemic bowel.
Continuing: Pt died at 2:14 a.m. Cause of death, Respiratory failure secondary to Aspiration Pneumonia secondary to Presumed ischemic bowel.
Personal Note from NHAA Advocates: NHAA shares with all the families of loved ones who are confined to nursing homes the pain and anguish of putting them in the care of someone else. We expect our loved ones to be treated with dignity and honor in the homes we place them. We cannot emphasize enough to family members of nursing home residents; frequent visits are essential to our loved ones' well-being and safety. This nursing home and many others across the country are cited for abuse and neglect.
You can make a difference. If you have a loved one living in this nursing home or any other nursing home where you suspect any form of abuse or neglect, contact us immediately. We can help you file a state complaint, hire a specialized nursing home attorney or help you find a more suitable location for your loved one.
Contact us through our CONTACT FORM located on our website here or call our toll free hot line number: 1-800-645-5262
You can make a difference even if your loved one has already passed away.