Posted on Mar 26, 2017 in
Blog
|
3 comments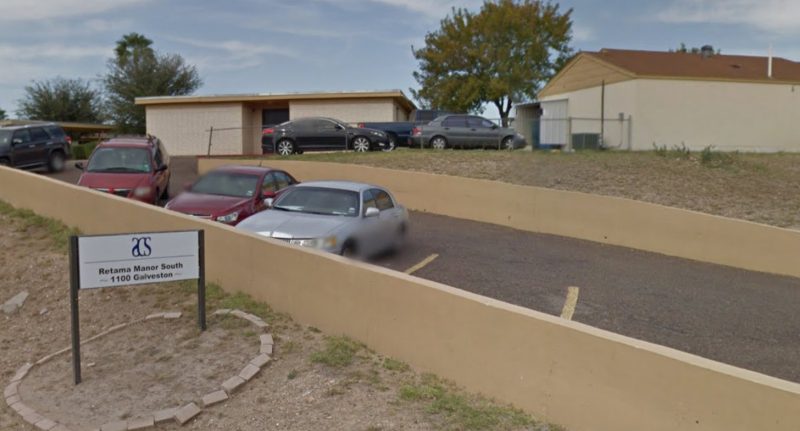 RETAMA MANOR/LAREDO SOUTH
LOCATED: 1100 GALVESTON, LAREDO, TX 78040
RETAMA MANOR/LAREDO SOUTH was cited by the DEPARTMENT OF HEALTH AND HUMAN SERVICES CENTERS FOR MEDICARE & MEDICAID SERVICES for the following deficiencies:
PLEASE NOTE: The following highlighted quoted text is only a portion of the full report/survey submitted by DEPARTMENT OF HEALTH AND HUMAN SERVICES CENTERS FOR MEDICARE & MEDICAID SERVICES. The full report/survey can be found here.
FACILITY FAILED TO DEVELOP POLICIES THAT PREVENT MISTREATMENT, NEGLECT, OR ABUSE OF RESIDENTS OR THEFT OF RESIDENT PROPERTY.
LEVEL OF HARM –IMMEDIATE JEOPARDY
**NOTE- TERMS IN BRACKETS HAVE BEEN EDITED TO PROTECT CONFIDENTIALITY**
Based on observation, interview, and record review the facility failed to implement its written policies and procedures that prohibit neglect of residents for 13 Residents (R #1, R #3, R #4, R #5, R #6, R #7, R #8, R #9, R #10, R #11, R #12 and R #13, R #14) of 14 Residents reviewed for neglect related to Infection Control.
The facility failed to provide services to prevent harm when it:
1.) failed to follow the physician's orders [REDACTED].#4 and R #7. R #4 had bleeding areas on both arms.
2.) failed to implement and follow appropriate measures and the facility's policy and procedures to prevent the re-infection and isolation of scabies for R #1, R #3, R #5, R #6, R #7, R #8, R #9, R #12, R #13, and R #14.
3) failed to clarify R #10 and R #11's orders for [MEDICATION NAME] Cream 1% as an effective treatment for [REDACTED].
These failures resulted in an Immediate Jeopardy (IJ) situation identified on [DATE]. While the IJ was removed on [DATE], the facility remained out of compliance at a severity of actual harm with a scope identified as pattern. The facility was continuing to monitor to ensure continued implementation of their plan of removal. These failures could affect 80 residents residing in the facility for serious infection control and risk of contracting scabies. According to the facility's list of residents treated for [REDACTED].
On [DATE] at 2:45 p.m., during initial rounds Surveyor observed a tracking raised red rash on R #4's arms and legs. There were areas on R #4's anterior lower forearms with scratch marks and bleeding and scattered bruise marks across both arms. R #4 lifted up his shirt and exposed his abdominal area which was also covered in a tracking raised red rash. R #4's legs were covered with a scabbed over rash from the knees down to his ankle areas. R #4 said he has had the rash off and on for months. R #4 said he wanted the rash treated because it itched him all the time. During interview with R #4 there was a female whom identified herself as a friend in R #4's room. The friend PP said she had been asking for treatment for [REDACTED]. #4's insurance would not pay for a dermatologist visit. Surveyor observation and interview revealed R #4 shared closet space with a room-mate. (R #4's clothing was co-mingled with room-mates clothing)
On [DATE] at 5:45 p.m., observation revealed R #4 sitting in the dining room at a table with two other residents. R #4 was scratching at his back and arms, R #4 placed his right arm on the table cloth several times during the meal service.
On [DATE] at 6:30 p.m., interview with the DON revealed the Treatment Nurse was responsible for treating all the residents for scabies while she was in the building.
Personal Note from NHA – Advocates: NHAA shares with all the families of loved ones who are confined to nursing homes the pain and anguish of putting them in the care of someone else. We expect our loved ones to be treated with dignity and honor in the homes we place them. We cannot emphasize enough to family members of nursing home residents; frequent visits are essential to our loved ones' well-being and safety. This nursing home and many others across the country are cited for abuse and neglect.
You can make a difference. If you have a loved one living in this nursing home or any other nursing home where you suspect any form of abuse or neglect, contact us immediately.
We have helped many already and we can help you and your loved one as well by filing a state complaint, hiring a specialized nursing home attorney or helping you find a more suitable location for your loved one.
Contact us through our CONTACT FORM located on our website here below or on the sidebar or call our toll free hot line number: 1-800-645-5262.
You can make a difference even if your loved one has already passed away.