Posted on Jun 30, 2017 in
Blog
|
0 comments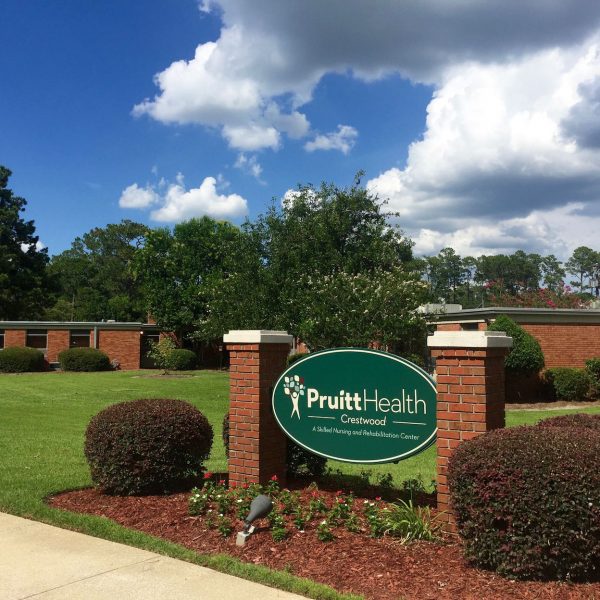 PRUITTHEALTH – CRESTWOOD
LOCATED: 415 PENDLETON PLACE, VALDOSTA, GA 31602
PRUITTHEALTH – CRESTWOOD was cited by the DEPARTMENT OF HEALTH AND HUMAN SERVICES CENTERS FOR MEDICARE & MEDICAID SERVICES for the following deficiencies:
PLEASE NOTE: The following highlighted quoted text is only a portion of the full report/survey submitted by DEPARTMENT OF HEALTH AND HUMAN SERVICES CENTERS FOR MEDICARE & MEDICAID SERVICES. The full report/survey can be found here.
FACILITY FAILED TO PROVIDE NECESSARY CARE AND SERVICES TO MAINTAIN THE HIGHEST WELL BEING OF EACH RESIDENT
LEVEL OF HARM –ACTUAL HARM
**NOTE- TERMS IN BRACKETS HAVE BEEN EDITED TO PROTECT CONFIDENTIALITY**
Based on record review and interview it was determined the facility failed to provide care and services in a timely manner for one resident (R#39) of 28 sampled residents.
Resident (R) #39 was found unresponsive to voice and touch on 4/4/16. The nurse failed to assess and provide treatment to the resident. R#39 was transported to the hospital via ambulance four hours after the initial nursing assessment. This standard was cited at harm level.
On 2/28/17 at 11:35 a.m., an interview with complainant in R#39's room stated, my sister received a call to come see about our mother. I was just coming to visit and she (R#39) was non- responsive in her room in the bed. Pushed the call light and no one responded. Told a CNA (Certified Nursing Assistant) to go get LPN HH. She never came. I went to go find LPN HH. LPN HH tried to wake her up and I insisted that she call 911. Someone finally called 911. One of the hospital nurses said that she (R#39) had been given too much medicine. They gave her [MEDICATION NAME] (treats narcotic overdose) more than once to bring her back.
Review of nurse's notes dated 4/3/16 at 2:50 p.m., for R #39 revealed Resident noted c (with) slight SOB (shortness of breath) .placed on 3 (three) day charting for observation. Will cont. (continue) to observe. There was no documentation indicating LPN HH assessed nor provided recommended interventions for R #39 at that time. Nurse's notes dated 4/3/16 at 4:30 p.m., revealed Blood sugar 238, resident non-responsive to physical or verbal stimuli, 10 units [MEDICATION NAME] (insulin) given .Family at bed side.
The nurse's note lacked documentation indicating R#39's oxygen level was being monitored due to the display of SOB.
The following events were documented on 4/3/16: At 4:45 p.m., R#39 remains unresponsive O2 sat @ (at) 88% on 3L (three) O2. (The physician's orders [REDACTED]. 5:30 p.m., Daughter called this nurse into see resident. Unable to arouse resident. Family concerned, request resident be sent out to hospital. 6:45 p.m., 911 called, resident transferred to (Name of local hospital) ER (emergency room) for eval. (evaluation)
There was approximately four hours from LPN HH initial observation of R#39 having SOB to the time 911 was called. There was no documentation of the physician being contacted.
Review of history and physical dated 4/4/16 revealed .Today patient. was unresponsive for an uncertain amount of time at the nursing home.In the emergency room the patient did receive from the ER doctor [MEDICATION NAME] x (times) two .
Review of hospital discharge summary dated 4/14/16, revealed .The patient .who apparently passed out at the nursing home and was unresponsive for an uncertain amount of time.came in anemic with hemoglobin of 7.3. (normal range was 13.5-17.5) R #39 received blood transfusion. R #39 went into respiratory distress while in the hospital.
Personal Note from NHA – Advocates: NHAA shares with all the families of loved ones who are confined to nursing homes the pain and anguish of putting them in the care of someone else. We expect our loved ones to be treated with dignity and honor in the homes we place them. We cannot emphasize enough to family members of nursing home residents; frequent visits are essential to our loved ones' well-being and safety. This nursing home and many others across the country are cited for abuse and neglect.
You can make a difference. If you have a loved one living in this nursing home or any other nursing home where you suspect any form of abuse or neglect, contact us immediately.
We have helped many already and we can help you and your loved one as well by filing a state complaint, hiring a specialized nursing home attorney or helping you find a more suitable location for your loved one.
Contact us through our CONTACT FORM located on our website here below or on the sidebar or call our toll free hot line number: 1-800-645-5262.
You can make a difference even if your loved one has already passed away.