Posted on Apr 17, 2014 in
Blog
|
0 comments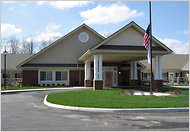 MANORCARE HEALTH SERVICES – PARMA, OHIO
Recently in 2013 and in 2012, Manorcare Health Services located 9055 WEST SPRAGUE ROAD PARMA, OH 44133 was cited by the DEPARTMENT OF HEALTH AND HUMAN SERVICES CENTERS FOR MEDICARE & MEDICAID SERVICES for causing a femur fracture and pressure sore; both causing actual harm to the resident(s).
Below are portions of the official report(s). The full report(s) can be found for 2012 here and 2013 here.
2012 Survey: Based on record review, document review, and staff interview, the facility failed to ensure staff transferred one resident in accordance with that resident's care card, which resulted in the resident sustaining a fracture to the left femur. This affected one resident (#1) of nine resident records reviewed.  A CT scan performed later on 09/13/12 showed a fracture of the left supracondylar distal femur. During an interview on 09/17/12 at 4:50 P.M., the administrative director of nursing services, confirmed that Resident #1 sustained a fracture as a result of an improper transfer.
2013 Survey: Based on observation, record review and interview, the facility failed to ensure adequate interventions were in place to prevent the developement of a pressure ulcer. This resulted in actual harm for Resident #99 who developed a Stage III pressure ulcer to her sacrum.
Continuing: 04/07/13 at 2:22 P.M., interview with LPN #1 revealed she was the facility wound nurse. The LPN verified Resident #99 was re-admitted to the facility on [DATE] and that her skin was intact at that time. The LPN verified the resident developed a Stage III pressure ulcer while residing in the facility.
Personal Note from NHAA Advocates: We here at NHAA share with all the families of loved ones who are confined to nursing homes the pain and anguish of putting them in the care of someone other than our-self. We live our lives thinking our loved ones are being treated with dignity and honor in the homes we place them. We cannot emphasize enough to family members of nursing home residents; frequent visits are essential to our loved ones' well being and safety. This nursing home and many others across the country are cited for abuse and neglect which go unpunished and continue to turn a blind eye to our elders' safety and well being.
You can make a difference. If you have a loved one living in this nursing home or any other nuring home where you suspect any form of abuse or neglect, contact us immediately. We can help you file a state complaint, hire a specialized nursing home abuse and/or neglect attorney or help you find a more suitable location for your loved one.
Share your story with us, spread the word and HELP STOP THE ABUSE AND NEGLECT! Stop the companies who hire inadequate and poorly trained staff in order to gain profits from our helpless elderly.
Contact us through our CONTACT FORM located on our website, www.nursinghomesabuseadvocate.com or call our toll free hot line number: 1-800-645-5262
You can make a difference even if your loved one has already passed away.