Posted on Jun 2, 2016 in
Blog
|
5 comments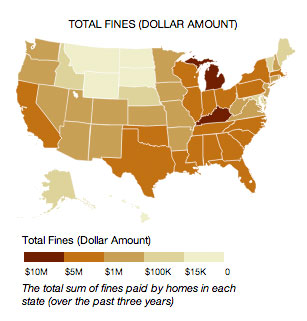 THE FOLLOWING IS A CURRENT LIST OF OF NURSING HOMES WITH MOST FINES:
Signature Healthcare at Saint Francis, Tenn.: $1.23M
Signature Healthcare at St Peter Villa, Tenn.: $976K
Siler City Center, N.C.: $680K
NHC Place at Cool Springs, Tenn.: $664K
Montvue Nursing Home, Va.: $603K
Golden Livingcenter-Lancaster, Pa.: $580K
Pruitthealth-High Point, N.C.: $566K
Signature Healthcare of Madison, Tenn.: $564K
Somerwoods Nursing & Rehabilitation Center, Ky.: $564K
Community Care of Rutherford, Tenn.: $549K
Kindred Nursing and Rehabilitation-Maryville, Tenn.: $543K
*Excel Care Center, Fla.: $525K
Brownsboro Hills Health Care and Rehabilitation c, Ky.: $522K
Golden Livingcenter – Camelot, Ky.: $508K
Fort Sanders Sevier Nursing Home, Tenn.: $498K
Winnfield Nursing and Rehabilitation Center, Llc, La.: $493K
Clairemont Healthcare & Wellness Centre, Llc, Calif.: $490K
Madison Pointe Rehabilitation and Health Center, Fla.: $473K
Blount Memorial Trans Care Ctr, Tenn.: $465K
Kenilworth Care & Rehabilitation Center, Fla.: $448K
*Special Focus Facility
The above data has been provided by the following website:
http://projects.propublica.org/nursing-homes/
Personal Note from NHA-Advocates: NHAA shares with all the families of loved ones who are confined to nursing homes the pain and anguish of putting them in the care of someone else. We expect our loved ones to be treated with dignity and honor in the homes we place them. We cannot emphasize enough to family members of nursing home residents; frequent visits are essential to our loved ones' well-being and safety. This nursing home and many others across the country are cited for abuse and neglect.
You can make a difference. If you have a loved one living in this nursing home or any other nursing home where you suspect any form of abuse or neglect, contact us immediately.
We can help you and your loved one file a state complaint, hire a specialized nursing home attorney or help you find a more suitable location for your loved one.
Contact us through our CONTACT FORM located on our website here below or on the sidebar or call our toll free hot line number: 1-800-645-5262.

You can make a difference even if your loved one has already passed away.