Posted on Oct 14, 2016 in
Blog
|
2 comments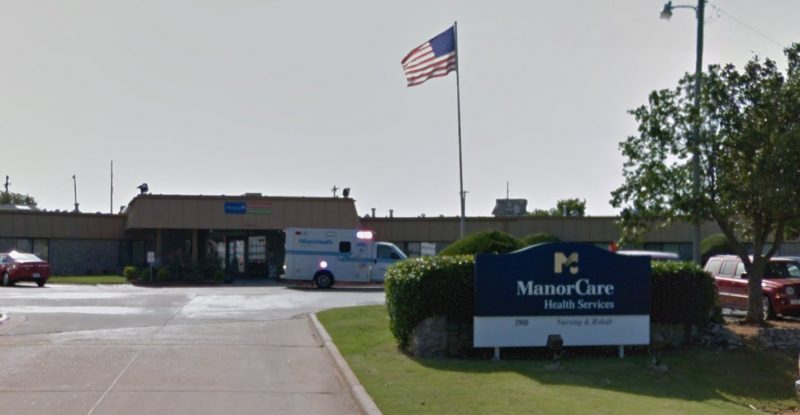 MANORCARE HEALTH SERVICES – MIDWEST CITY
LOCATED: 2900 PARKLAWN DRIVE, MIDWEST CITY, OK 73110
MANORCARE HEALTH SERVICES – MIDWEST CITY was cited by the DEPARTMENT OF HEALTH AND HUMAN SERVICES CENTERS FOR MEDICARE & MEDICAID SERVICES for the following deficiencies:
PLEASE NOTE: The following highlighted quoted text is only a portion of the full report/survey submitted by DEPARTMENT OF HEALTH AND HUMAN SERVICES CENTERS FOR MEDICARE & MEDICAID SERVICES. The full report/survey can be found here.
**NOTE- TERMS IN BRACKETS HAVE BEEN EDITED TO PROTECT CONFIDENTIALITY**
Based on observation, record review and staff interview, it was determined the facility failed to ensure thorough incontinent care was provided for one (#8) of four sampled residents whose incontinent care was observed
On 01/05/16 at 10:30 a.m. The provision of incontinent care for the resident was observed. CNA #2 and CNA #3 were asked who was responsible for providing catheter care for the resident. CNA #2 stated, "That's what we are gonna do."
The resident stated that she had an accident at 12:30 a.m. and was not sure how well she was cleaned. As care was initiated, the resident was observed to have dried brown feces on her buttocks. CNA#2 stated, "Still got a little." There was no observation of catheter care provided to the resident at this time.
At 10:45 a.m., CNA#2 and CNA#3 were asked how often incontinent care was offered to the resident. CNA #3 stated, "In the morning and she will let us know."
At 11:00 a.m., LPN #2 was asked who was responsible for performing catheter care. She stated, "We do." She was asked to clarify. She stated the nurses were responsible. She was observed to check the TAR and stated, "Every shift."
LPN #2 was informed of the need to observe the catheter care for the day shift. No observation of catheter care was observed on the day shift.
On 01/06/16 at 9:00 a.m., LPN #2 was asked if catheter care was given during the day shift on 01/0S/16. She stated, "No, she was already up in her chair."
Personal Note from NHA-Advocates: NHAA shares with all the families of loved ones who are confined to nursing homes the pain and anguish of putting them in the care of someone else. We expect our loved ones to be treated with dignity and honor in the homes we place them. We cannot emphasize enough to family members of nursing home residents; frequent visits are essential to our loved ones' well-being and safety. This nursing home and many others across the country are cited for abuse and neglect.
You can make a difference. If you have a loved one living in this nursing home or any other nursing home where you suspect any form of abuse or neglect, contact us immediately.
We can help you and your loved one file a state complaint, hire a specialized nursing home attorney or help you find a more suitable location for your loved one.
Contact us through our CONTACT FORM located on our website here below or on the sidebar or call our toll free hot line number: 1-800-645-5262.

You can make a difference even if your loved one has already passed away.