Posted on Jan 3, 2018 in
Blog
|
0 comments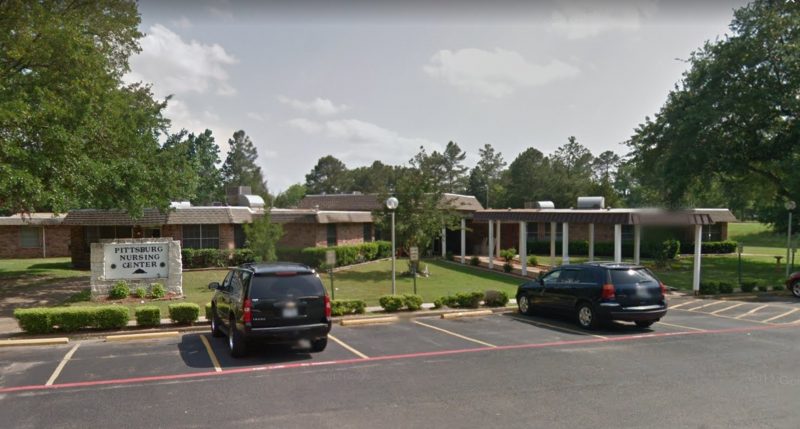 PITTSBURG NURSING CENTER
LOCATED: 123 PECAN GROVE, PITTSBURG, TX 75686
PITTSBURG NURSING CENTER was cited by the DEPARTMENT OF HEALTH AND HUMAN SERVICES CENTERS FOR MEDICARE & MEDICAID SERVICES for the following deficiencies:
PLEASE NOTE: The following highlighted quoted text is only a portion of the full report/survey submitted by DEPARTMENT OF HEALTH AND HUMAN SERVICES CENTERS FOR MEDICARE & MEDICAID SERVICES. The full report/survey can be found here.
FACILITY FAILED TO MAKE SURE THAT THE NURSING HOME AREA IS FREE FROM ACCIDENT HAZARDS AND RISKS AND PROVIDES SUPERVISION TO PREVENT AVOIDABLE ACCIDENTS
**NOTE- TERMS IN BRACKETS HAVE BEEN EDITED TO PROTECT CONFIDENTIALITY**
Based on observation, interview, and record review, the facility failed to ensure the resident environment remained as free from accident hazards as possible for 1 of 8 residents reviewed for accident hazards. (Resident #1)
The facility failed to remove hazardous chemicals out Resident #1's room after she was seen rubbing it into her eyes. The nurse did not report the incident to the oncoming shift, delaying physician notification and treatment for 21 hours.
Resident #1 now only sees colors and shapes.
This failure contributed to Resident #1's eye injury and likely permanent blindness.
During an telephone interview on 07/16/17 at 10:38 a.m., LVN B said she was on duty the night of 6/10-6/11/17 when Resident #1 rubbed the Hibiclens in her eyes. She said she forgot to remove the bottle of Hibiclens from the room after flushing Resident #1's eyes with water. She said she had not informed the oncoming shift nurse, documented, or informed the physician about the incident.
During an interview on 7/16/17 at 7:19 a.m. LVN A said she arrived at work at 6 a.m. on 06/11/17 and relieved LVN B. She said LVN B did not tell her Resident #1 rubbed Hibiclens in her eyes. LVN A said there was no incident report of the incident and there was no documentation of the incident in the nursing notes. She said on the morning of 06/11/17 between 8-9 a.m., she was called to Resident #1's room because Resident #1 was complaining of eye pain and complained she could not see. She said when she arrived in the room Resident #1 was holding her eyes, saying they hurt and she said she could not see. LVN A said, while she was assessing Resident #1, the housekeeper was sweeping Resident #1's room. She said when the housekeeper swept under the bed she found a bottle of Hibiclens and asked if Resident #1 should have this in her room. She said she told the housekeeper no and took the bottle. LVN A said she asked Resident #1 if the bottle was hers and the resident said yes. LVN A said she asked Resident #1 if she put the contents of the bottle in her eyes and Resident #1 said no. LVN A said she called the NP and reported Resident #1's complaints and told her Resident #1 had drainage to her eyelids with crusting. She said it was not until the end of her 16 hour shift, on 06/11/17 at 10:35 p.m. when LVN B came to relieve her, that she learned Resident #1 had rubbed Hibiclens in her eyes. She said the physician was not notified of the incident until 10:45 p.m. on the night of 06/11/17, 21 hours later after the incident occurred.
A physician note dated 7/14/17 indicated the severity of the injury to Resident #1's eyes was likely blindness. The resident was constantly rubbing her eyes and possibly causing more damage. The physician documented that the resident would do poorly due to mental status. She was non-compliant. There was worsening of both eyes since the resident washed her eyes out with Hibiclens on 6/12/17. (sic)
Personal Note from NHA–Advocates: NHAA shares with all the families of loved ones who are confined to nursing homes the pain and anguish of putting them in the care of someone else. We expect our loved ones to be treated with dignity and honor in the homes we place them. We cannot emphasize enough to family members of nursing home residents; frequent visits are essential to our loved ones' well-being and safety. This nursing home and many others across the country are cited for abuse and neglect.