Posted on Jan 15, 2016 in
Blog
|
0 comments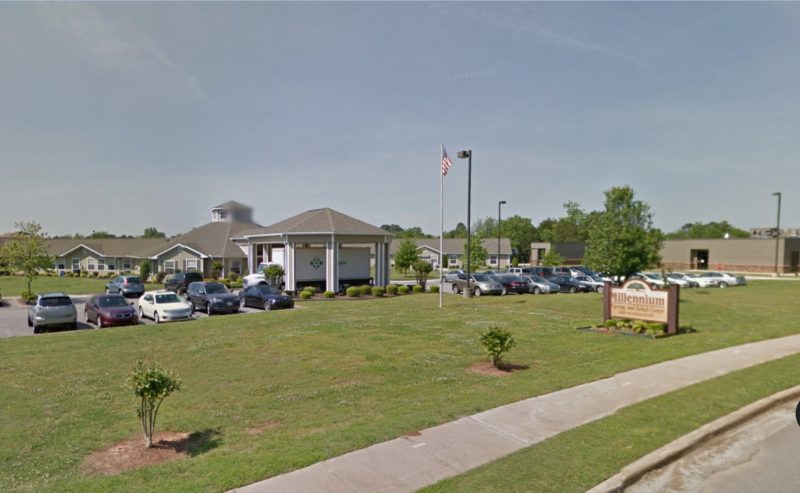 MILLENNIUM NURSING AND REHAB CENTER, INC
LOCATED: 5275 MILLENNIUM DRIVE, HUNTSVILLE, AL 35806
MILLENNIUM NURSING AND REHAB CENTER, INC was cited by the DEPARTMENT OF HEALTH AND HUMAN SERVICES CENTERS FOR MEDICARE & MEDICAID SERVICES for the following deficiencies:
PLEASE NOTE: The following highlighted quoted text is only a portion of the full report/survey submitted by DEPARTMENT OF HEALTH AND HUMAN SERVICES CENTERS FOR MEDICARE & MEDICAID SERVICES. The full report/survey can be found here.
FACILITY FAILED TO PROVIDE NECESSARY CARE AND SERVICES TO MAINTAIN THE HIGHEST WELL BEING OF EACH RESIDENT
LEVEL OF HARM –IMMEDIATE JEOPARDY
**NOTE- TERMS IN BRACKETS HAVE BEEN EDITED TO PROTECT CONFIDENTIALITY**
Based on interviews, review of Resident Identifier (RI) #1's and RI #2's medical record, handwritten statements from licensed nurses and the 2010 American Heart Association (AHA) Guidelines for Cardiopulmonary Resuscitation and Emergency Cardiovascular Care, the facility failed to ensure Employee Identifier (EI) #1, a Licensed Practical Nurse (LPN) followed the AHA guidelines for providing cardiopulmonary resuscitation to RI #1, a resident with Full Code status. Code status describes what type of intervention a health care facility will conduct should a resident stop breathing and/or their heart stops beating. Full Code status means when a resident stops breathing and/or their heart stops beating, staff are to immediately initiate emergency medical services, Cardiopulmonary Resuscitation (CPR), in an attempt to revive the resident. According to the AHA, the lone rescuer should immediately activate the emergency response system, get an AED (Automated External Defibrillator)/defibrillator, if available, and start CPR with chest compressions. CPR should be continued without interruptions until more experienced rescuers assume care. On [DATE] between 3:00 AM and 4:00 AM, EI #8, a Certified Nursing Assistant (CNA) alerted EI #1, the LPN that she should come and check on RI #1. EI #1 went into the resident's room and found RI #1 with a faint pulse. EI #1 left the resident's room to call the physician, the resident's family and EI #3, a Registered Nurse on another hall. When EI #1 returned to RI #1's room, she could not detect RI #1's pulse. EI #1 lowered RI #1's bed and started to perform chest compressions. After 30 chest compressions, EI #1 checked for a pulse. When no pulse was found, EI #1 stopped CPR and returned to the nurses' station to complete paperwork. Without calling a code, activating emergency medical services (EMS) or notification from the physician, EI #1 told RI #1's daughter, the resident had expired when she arrived at the facility at 4:50 AM.
Furthermore, it was revealed, this same LPN, EI #1, who was not CPR certified, failed to call a code and activate the emergency response system, when she found RI #2 unresponsive on [DATE]. These deficient practices affected RI #1 and RI #2; two of two sampled residents reviewed for emergency response, and placed RI #1 and RI #2 in immediate jeopardy because it was likely to cause serious injury, harm or death.
CONTINUING: On [DATE], the State Agency received a complaint alleging the facility failed to initiate and continue CPR on RI #1, a resident with Full Code status. The ambulance was not called and there was no crash cart in the resident's room or hallway. According to the complainant, the Director of Nursing (EI #2) stated the nurse (later identified as EI #1) got into trouble for not calling the ambulance.
Personal Note from NHAA Advocates: NHAA shares with all the families of loved ones who are confined to nursing homes the pain and anguish of putting them in the care of someone else. We expect our loved ones to be treated with dignity and honor in the homes we place them. We cannot emphasize enough to family members of nursing home residents; frequent visits are essential to our loved ones' well-being and safety. This nursing home and many others across the country are cited for abuse and neglect.
You can make a difference. If you have a loved one living in this nursing home or any other nursing home where you suspect any form of abuse or neglect, contact us immediately.
We can help you and your loved one file a state complaint, hire a specialized nursing home attorney or help you find a more suitable location for your loved one.
Contact us through our CONTACT FORM located on our website here below or on the sidebar or call our toll free hot line number: 1-800-645-5262.
You can make a difference even if your loved one has already passed away.