Posted on Jan 19, 2016 in
Blog
|
0 comments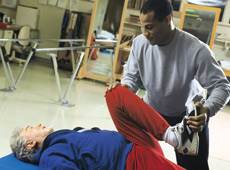 Kindred Healthcare Inc. and its subsidiary RehabCare Group Inc. have agreed to pay $125 million to settle a whistleblower lawsuit on Medicare therapy claim overbilling.
The settlement, announced Tuesday by the U.S. Department of Justice, ends an investigation into claims brought against the companies by Janet Halpin and Shawn Fahey, former RehabCare therapists, in a 2011 lawsuit. The suit claims RehabCare routinely scheduled skilled nursing facility residents for higher levels of therapy than needed, resulting in therapy services were not reasonable or necessary, or never occurred.
The company also allegedly scheduled patients for therapy after they were recommended to be discharged, and reported that services had been provided when residents were asleep or unable to undergo therapy, according to the DOJ.
In addition to settling with RehabCare and Kindred, settlements totaling $8.23 million were reached with four skilled nursing providers who contracted with RehabCare. Halpin and Fahey will receive a $24 million share of the recovery for their whistleblower roles.
RehabCare denied engaging in any illegal activity, but chose to settle "in order to provide clarity" for customers, shareholders and government entities, according to a Kindred statement.
RehabCare is the nation's largest skilled therapy provider, contracting with more than 1,000 facilities in 44 states. Kindred purchased RehabCare in 2011.
Tuesday's agreement adds to the ongoing saga of settlements involving skilled nursing facilities who subcontracted with RehabCare for therapy services.
In March 2015, nursing home provider ArchCare paid $3.5 million to settle allegations that it failed to prevent RehabCare from overbilling Medicare. That same month, a nursing home in Maine  that contracted with the company paid $1.2 million to resolve claims that it inflated its therapy reporting.
In 2014, allegations surrounding RehabCare's therapy billing practices cost Maryland skilled nursing operator Episcopal Ministries to the Aging $1.3 million in settlements. Life Care Services LLC and CoreCare V LLP settled their RehabCare allegations for a total of $3.75 million.
January 12, 2016 Story by Emily Mongan, Staff Writer:  http://www.mcknights.com/news/kindred-rehabcare-settle-false-claims-allegations-for-125-million/article/464707/
Personal Note from NHAA Advocates: NHAA shares with all the families of loved ones who are confined to nursing homes the pain and anguish of putting them in the care of someone else. We expect our loved ones to be treated with dignity and honor in the homes we place them. We cannot emphasize enough to family members of nursing home residents; frequent visits are essential to our loved ones' well-being and safety. This nursing home and many others across the country are cited for abuse and neglect.
You can make a difference. If you have a loved one living in this nursing home or any other nursing home where you suspect any form of abuse or neglect, contact us immediately.
We can help you and your loved one file a state complaint, hire a specialized nursing home attorney or help you find a more suitable location for your loved one.
Contact us through our CONTACT FORM located on our website here below or on the sidebar or call our toll free hot line number: 1-800-645-5262.
You can make a difference even if your loved one has already passed away.