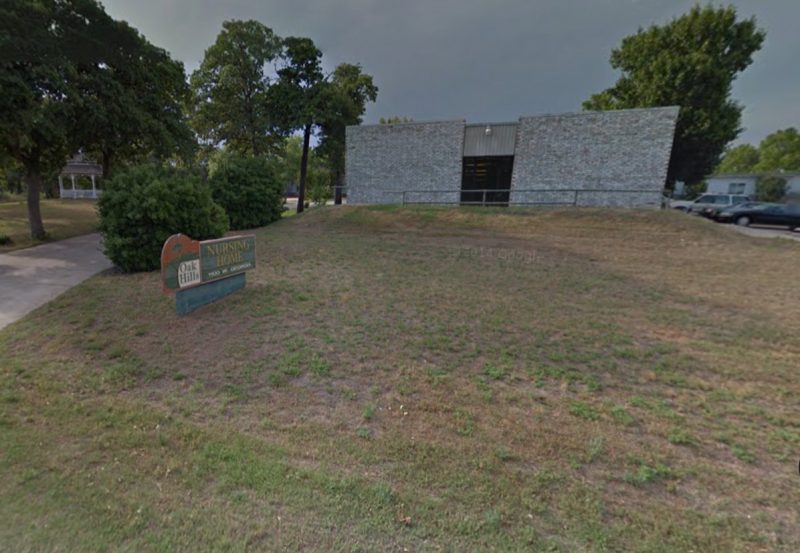 OAK HILL CARE CENTER
LOCATED: 1100 WEST GEORGIA, JONES, OK 73049
OAK HILL CARE CENTER was cited by the DEPARTMENT OF HEALTH AND HUMAN SERVICES CENTERS FOR MEDICARE & MEDICAID SERVICES for the following deficiencies:
PLEASE NOTE: The following highlighted quoted text is only a portion of the full report/survey submitted by DEPARTMENT OF HEALTH AND HUMAN SERVICES CENTERS FOR MEDICARE & MEDICAID SERVICES. The full report/survey can be found here.
FACILITY FAILED TO ENSURE A RESIDENT WAS FREE FROM RESTRAINTS WITHOUT A MEDICAL REASON FOR THE USE OF THE RESTRAINT
LEVEL OF HARM – ACTUAL HARM
**NOTE- TERMS IN BRACKETS HAVE BEEN EDITED TO PROTECT CONFIDENTIALITY**
Based on clinical record review, staff interviews and review of facility policies and procedures, it was determined the facility failed to ensure a resident was free from restraints without a medical reason for the use of the restraint. Mitten restraints were being held on the resident's wrist with the use of duct tape for one (#3) of three sampled residents reviewed for the use of restraints. Improper use of duct tape resulted in actual harm to the resident.
Continuing: Also we did not use mittens on pt (patient) (at) all yesterday (3/1/14). And we did not place mittens on resident prior to leaving last night. An incident report, dated 03/02/14, documented, .Pt (patient) noted c (with) mittens on both hands c (with) purple duck (sic) tape wrapped tightly around them. This nurse removed duck (sic) tape and mittens and noted red bruises on B (both) wrists. A document, dated 03/03/14, titled Report of Nursing Practice Incident, documented, .was reported to of hand mittens taped on with duck (sic) tape. Nurse (name omitted) was last nurse to of been responsible for resident (resident #3). Bruising to both wrist was found due to tightness of tape and use of mittens. A written statement by CNA #1, dated 03/04/14, documented, I did put the duct tape on (resident #3) (on Sat (Saturday) night/Sun (Sunday) MORN (morning) 3/1-3/2 on the 10-6 shift) to keep his mittens in place because he was digging in feces and smearing it on the wall (and) bed. He did this multiple times the night before and I did it to prevent it from reoccurring on this night. The nurse (name omitted) (and) she was aware that I had used duct tape instead of paper tape which had been used with prior incidents to keep on his mittens. 
Continuing: On 07/21/14 at 12:24 p.m., the administrator was asked if he felt the use of duct tape to secure hand mitten restraints was acceptable. He stated, No. At 1:55 p.m., the director of nursing was asked if the use of duct tape to secure hand mittens was the proper application of a restraint. She stated, No, not at all. She stated the Velcro on the hand mittens was worn and not holding. She was then asked what would be a good intervention for hand mittens that had worn Velcro. She stated, Order new ones.
Personal Note from NHAA Advocates: NHAA shares with all the families of loved ones who are confined to nursing homes the pain and anguish of putting them in the care of someone else. We expect our loved ones to be treated with dignity and honor in the homes we place them. We cannot emphasize enough to family members of nursing home residents; frequent visits are essential to our loved ones' well-being and safety. This nursing home and many others across the country are cited for abuse and neglect.
You can make a difference. If you have a loved one living in this nursing home or any other nursing home where you suspect any form of abuse or neglect, contact us immediately. We can help you file a state complaint, hire a specialized nursing home attorney or help you find a more suitable location for your loved one.
Contact us through our CONTACT FORM located on our website here below or on the sidebar or call our toll free hot line number: 1-800-645-5262
You can make a difference even if your loved one has already passed away.