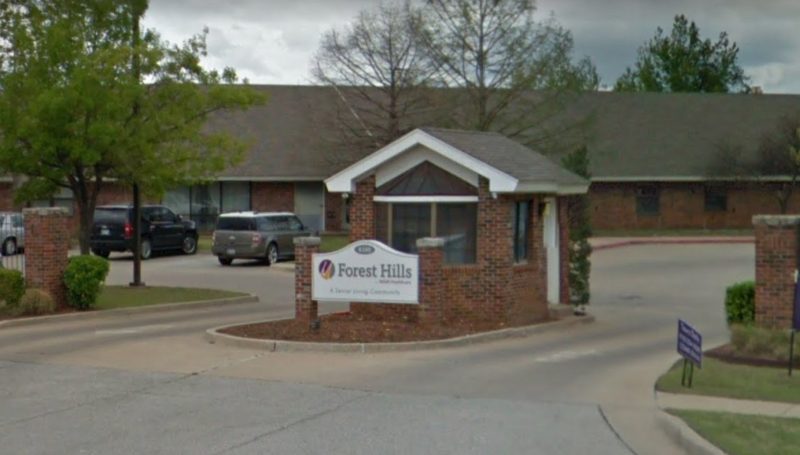 FOREST HILLS CARE AND REHABILITATION CENTER
LOCATED: 4300 WEST HOUSTON, BROKEN ARROW, OK 74012
FOREST HILLS CARE AND REHABILITATION CENTER was cited by the DEPARTMENT OF HEALTH AND HUMAN SERVICES CENTERS FOR MEDICARE & MEDICAID SERVICES for the following deficiencies:
PLEASE NOTE: The following highlighted quoted text is only a portion of the full report/survey submitted by DEPARTMENT OF HEALTH AND HUMAN SERVICES CENTERS FOR MEDICARE & MEDICAID SERVICES. The full report/survey can be found here.
FACILITY FAILED TO GIVE RESIDENTS PROPER TREATMENT TO PREVENT NEW BED (PRESSURE) SORES OR HEAL EXISTING BED SORES.
LEVEL OF HARM –ACTUAL HARM
**NOTE- TERMS IN BRACKETS HAVE BEEN EDITED TO PROTECT CONFIDENTIALITY**
Based on observation, interview and record review, it was determined the facility failed to identify and provide treatment to prevent the development of an avoidable pressure ulcer for two (#375 and #385) of three sampled residents who were reviewed for pressure ulcers. The facility identified 12 residents who had pressure ulcers.
Resident # 385 had multiple untreated unstageable pressure ulcers to his buttocks and penis.
A history and physical report from the hospital, dated 01/19/17 at 3:54 a.m., documented, .patient's nursing home staff noticed that his urine was darker than normal and they thought he might be getting dehydrated or have a urine infection so he was subsequently transferred to (hospital name deleted) for further evaluation and treatment .Skin: warm and dry color appropriate in all limbs. No [DIAGNOSES REDACTED], or induration on exposed observed areas of head, neck, and limbs.
A case management discharge planning note from the hospital, dated 01/19/17 at 2:08 p.m., documented, nursing staff informed that they are very concerned about possible abuse/neglect while at the nursing home .pt is very excoriated on his bottom and has an unstageable pressure ulcer on his bottom as well. pt's catheter does not appear to have been cared for .pt has a pressure ulcer on his penis.
A hospital progress note, dated 01/19/17 at 4:36 p.m., documented, .Pt came from NH with unshakeable (sic) wound on sacrum, and one on tip of penis also has blister on left heel. His f/c very crusty and peri area red with blisters and dried bowel movement on skin .also has bruising around waist. Wound consult ordered.
A hospital medical discharge summary, dated 01/28/17, documented, .Discharge [DIAGNOSES REDACTED].sepsis present on admission secondary to the above .multiple unstageable decubitus ulcer.
At 11:35 a.m., LPN #2 was asked when she was aware of the skin breakdown on the resident's sacrum and coccyx. She stated It was about nine p.m., on the evening he was transferred. She was asked if she had measured the area of the pressure ulcers. She stated, I didn't take any measurements, I was in the process of sending him out. She was asked if she had performed a skin assessment. She stated, I did not do a skin assessment. I was in the process of sending him out. She was asked for documentation of the skin breakdown. The nurse looked in the computer but was unable to find any documentation. She stated, apparently I didn't document it. She was asked if it should have been documented. She stated, Yes.
At 2:00 p.m., the DON was asked if the resident had any pressure ulcers. She stated, I was not aware of any skin breakdown at the time of his transfer to the hospital until the nurse had told me she thought he had a Kennedy ulcer. She was shown the nurse practitioner initial progress note. She was asked what the documentation of ulcer heel bruising, indicated to her. She stated, It would indicate there was a problem with the resident's heels. She was informed the nurse had stated the documentation was incorrect. She stated, I would expect the nurse to follow-up, especially if she thought the resident didn't have the documented ulcer to their heels. She should have clarified with the doctor or nurse practitioner.
Personal Note from NHA – Advocates: NHAA shares with all the families of loved ones who are confined to nursing homes the pain and anguish of putting them in the care of someone else. We expect our loved ones to be treated with dignity and honor in the homes we place them. We cannot emphasize enough to family members of nursing home residents; frequent visits are essential to our loved ones' well-being and safety. This nursing home and many others across the country are cited for abuse and neglect.
You can make a difference. If you have a loved one living in this nursing home or any other nursing home where you suspect any form of abuse or neglect, contact us immediately.
We have helped many already and we can help you and your loved one as well by filing a state complaint, hiring a specialized nursing home attorney or helping you find a more suitable location for your loved one.
Contact us through our CONTACT FORM located on our website here below or on the sidebar or call our toll free hot line number: 1-800-645-5262.
You can make a difference even if your loved one has already passed away.