Posted on Apr 23, 2015 in
Blog
|
4 comments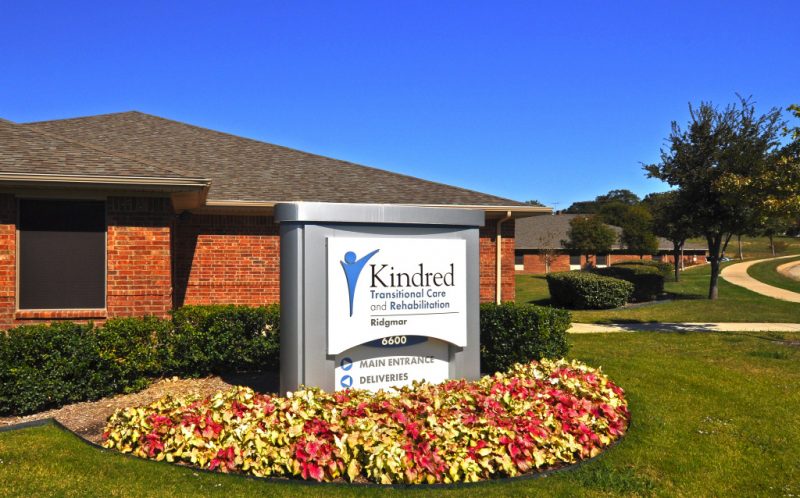 KINDRED TRANSITIONAL CARE AND REHABILITATION-RIDGM
LOCATED: 6600 LANDS END COURT, FORT WORTH, TX 76116
KINDRED TRANSITIONAL CARE AND REHABILITATION-RIDGM was cited by the DEPARTMENT OF HEALTH AND HUMAN SERVICES CENTERS FOR MEDICARE & MEDICAID SERVICES for the following deficiencies:
PLEASE NOTE: The following highlighted quoted text is only a portion of the full report/survey submitted by DEPARTMENT OF HEALTH AND HUMAN SERVICES CENTERS FOR MEDICARE & MEDICAID SERVICES. The full report/survey can be found here.
CAUTION – THE FOLLOWING CAN BE DISTURBING TO SOME READERS
FACILITY FAILED TO PROVIDE ADEQUATE SUPERVISION TO PREVENT INCIDENTS
LEVEL OF HARM – IMMEDIATE JEOPARDY
**NOTE- TERMS IN BRACKETS HAVE BEEN EDITED TO PROTECT CONFIDENTIALITY**
Based on observation, interview and record review, it was determined the facility failed to ensure one (Resident #1) of eight residents reviewed for prevention of accidents, received adequate supervision to prevent incidents. CNA A had worked with Resident #1 only one time prior to 08/23/14. CNA A had not read the plan of care for Resident #1 and thus was unaware Resident #1 could become resistant to care.
Continuing: LVN B revealed CNA A told her she was getting ready to put Resident #1's shirt on and the resident started fighting. LVN B said when she approached the resident, she had blood all over the front her body but there was none on the bed. LVN B asked Resident #1 what happened. She stated Resident #1 told her she did not want to get up and CNA A pulled her by her arms and hurt her. She stated the injuries were from the elbow down to the wrists. LVN B revealed the resident's skin was pulled down to her wrists. She stated she was 'horrified at the injuries. LVN B revealed those were the worst injuries she had ever seen. LVN B continued by saying she had LVN C to come and assist her with pulling Resident #1's skin back up over the muscle on both arms.
Continuing: LVN B said she had RN D call 911 and contact the family and the doctor. LVN B revealed it was her opinion if things happened the way the aide told her, the resident's injuries would have been at the wrists and not the whole forearm. LVN B revealed the physician at the hospital called her to ask her what happened. The physician told LVN B Resident #1's injuries measured 10+ inches length on both arms.
Continuing: An interview with the Paramedic, on 09/11/14 at 1:45 PM, revealed he responded to the 911 call from the facility. The Paramedic stated on 08/23/14 at 7:15 AM, his team had been picked to transport Resident #1 to the hospital for emergency medical services. The Paramedic stated a nurse met him at the door and she was crying because the resident's injuries were so bad. The Paramedic stated Resident #1 had large skin tears/shears to at least 50 to 60 % of both of her arms. He stated he had never seen injuries like that. An interview with LVN C on 09/14/14 at 11:25 AM confirmed LVN B came and got her to look at Resident #1's arms. She assisted LVN B with first aid. She stated the injuries were bad. The resident's skin was pulled down from her elbows to her wrists. LVN C revealed she had never seen injuries that bad and she had been a nurse for [AGE] years. She stated CNA A was nonchalant about Resident #1's injuries.
Personal Note from NHAA Advocates: NHAA shares with all the families of loved ones who are confined to nursing homes the pain and anguish of putting them in the care of someone else. We expect our loved ones to be treated with dignity and honor in the homes we place them. We cannot emphasize enough to family members of nursing home residents; frequent visits are essential to our loved ones' well-being and safety. This nursing home and many others across the country are cited for abuse and neglect.
You can make a difference. If you have a loved one living in this nursing home or any other nursing home where you suspect any form of abuse or neglect, contact us immediately. We can help you file a state complaint, hire a specialized nursing home attorney or help you find a more suitable location for your loved one.
Contact us through our CONTACT FORM located on our website here below or on the sidebar or call our toll free hot line number: 1-800-645-5262
You can make a difference even if your loved one has already passed away.