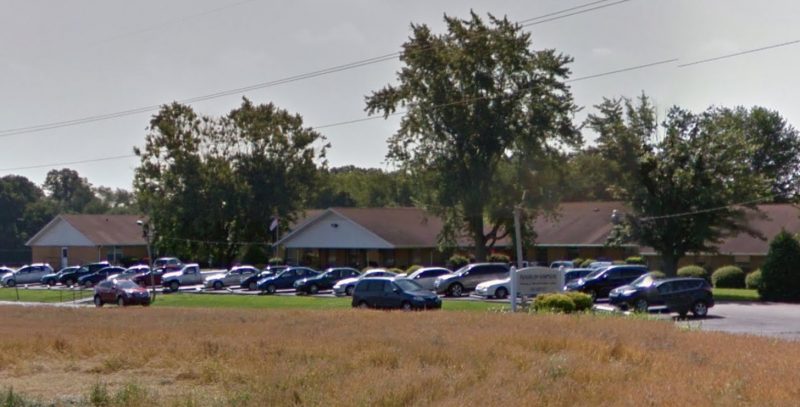 FRANKLIN – SIMPSON NURSING AND REHABILITATION CENTER
LOCATED: 414 ROBEY STREET, FRANKLIN, KY 42135
FRANKLIN – SIMPSON NURSING AND REHABILITATION CENTER was cited by the DEPARTMENT OF HEALTH AND HUMAN SERVICES CENTERS FOR MEDICARE & MEDICAID SERVICES for the following deficiencies:
PLEASE NOTE: The following highlighted quoted text is only a portion of the full report/survey submitted by DEPARTMENT OF HEALTH AND HUMAN SERVICES CENTERS FOR MEDICARE & MEDICAID SERVICES. The full report/survey can be found here.
FACILITY FAILED TO PROVIDE NECESSARY CARE AND SERVICES TO MAINTAIN THE HIGHEST WELL BEING OF EACH RESIDENT
LEVEL OF HARM –ACTUAL HARM
**NOTE- TERMS IN BRACKETS HAVE BEEN EDITED TO PROTECT CONFIDENTIALITY**
Based on interview, record review, facility policy review, review of emergency room Laboratory Report and hospital Discharge Summary, it was determined the facility failed to ensure each resident received and the facility provided the necessary care and services to attain or maintain the highest practicable physical, mental, and psychosocial well-being, in accordance with the comprehensive assessment and plan of care for one (1) of three (3) sampled residents (Resident #1).
Resident #1 was identified as having a cough, rash, elevated temperature on 01/20/16, and was started on antibiotic therapy. The resident had an episode of emesis and an ongoing temperature over the next five (5) days; however, the facility failed to conduct ongoing assessments to identify if the resident was showing signs and symptoms of dehydration; if the resident was receiving adequate fluids; if the resident's temperature was controlled with the use of Tylenol; and, if the antibiotic was effective. On 01/25/16, Resident #1 was identified to be unresponsive, was lethargic, respirations were shallow, and skin turgor was poor. Resident #1 was hospitalized on [DATE] for nine (9) days with [DIAGNOSES REDACTED].
Interview with the Director of Nursing (DON), on 03/03/16 at 10:35 AM, revealed the facility had no policy and procedure for assessing and monitoring residents related to antibiotic therapy or dehydration and was unable to provide any policy and procedure related to these areas.
Interview with the ER Physician, on 03/03/16 at 9:25 AM, revealed he was the attending physician in the ER on [DATE] and he was very concerned about Resident #1 due to his/her level of dehydration. He stated Resident #1 had blood-work done which reflected elevated laboratory levels of hemoglobin, hematocrit, blood urea nitrogen (BUN), chloride and sodium that were indicative of true dehydration/fluid volume deficit and not due to a medical condition such as a renal impairment or disease process. He further stated he was very concerned with how dry and crusted Resident #1's lips and mouth were. The ER Physician stated Resident #1 had a dried mucus like crust covering his/her gums in his/her oral cavity which was also indicative of true dehydration and lack of fluid intake over a period of several days. He stated Resident #1's level of dehydration would have come from several days of minimal fluid intake and this was negligent due to this particular resident's cognitive and physical impairments, as he/she was dependent upon others to provide fluids as he/she would be unable to do so by himself/herself without assistance.
Interview with the DON, on 03/03/16 at 10:35 AM, revealed she expected licensed staff to ensure documentation on the MAR if the medication was given and to also follow up on the medication to see if it was effective. She stated she expected licensed staff to do ongoing assessments when a resident has any kind of acute illness or recent decline in baseline conditions. The DON also stated she would have expected licensed staff to assess for and document any signs and symptoms of dehydration with any resident who had poor fluid intake and an ongoing elevated temperature.
Personal Note from NHA-Advocates: NHAA shares with all the families of loved ones who are confined to nursing homes the pain and anguish of putting them in the care of someone else. We expect our loved ones to be treated with dignity and honor in the homes we place them. We cannot emphasize enough to family members of nursing home residents; frequent visits are essential to our loved ones' well-being and safety. This nursing home and many others across the country are cited for abuse and neglect.
You can make a difference. If you have a loved one living in this nursing home or any other nursing home where you suspect any form of abuse or neglect, contact us immediately.
We can help you and your loved one file a state complaint, hire a specialized nursing home attorney or help you find a more suitable location for your loved one.
Contact us through our CONTACT FORM located on our website here below or on the sidebar or call our toll free hot line number: 1-800-645-5262.

You can make a difference even if your loved one has already passed away.