Posted on Sep 24, 2015 in
Blog
|
11 comments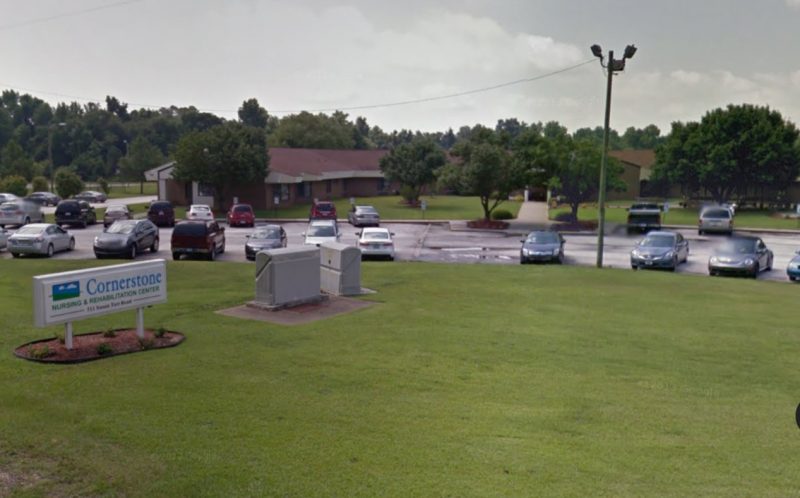 CORNERSTONE NURSING AND REHABILITATION CENTER
LOCATED: 711 SUSAN TART ROAD BOX 948, DUNN, NC 28334
CORNERSTONE NURSING AND REHABILITATION CENTER was cited by the DEPARTMENT OF HEALTH AND HUMAN SERVICES CENTERS FOR MEDICARE & MEDICAID SERVICES for the following deficiencies:
PLEASE NOTE: The following highlighted quoted text is only a portion of the full report/survey submitted by DEPARTMENT OF HEALTH AND HUMAN SERVICES CENTERS FOR MEDICARE & MEDICAID SERVICES. The full report/survey can be found here.
FACILITY FAILED TO PROVIDE NECESSARY CARE AND SERVICES TO MAINTAIN THE HIGHEST WELL BEING OF EACH RESIDENT
LEVEL OF HARM – IMMEDIATE JEOPARDY
**NOTE- TERMS IN BRACKETS HAVE BEEN EDITED TO PROTECT CONFIDENTIALITY**
Based on record review and staff interviews, the facility failed to comprehensively assess a change in a resident's condition for 1 (Resident #1) of 3 sampled residents; and failed to initiate medical treatment of [REDACTED]. #1) of 3 residents with an oxygen saturation of 78% for greater than 15 minutes.
Review of a written statement by NA #1 read in part On Saturday, [DATE] Resident #1 was very sick, sick vomiting and having diarrhea. Her Aid (NA#2) took her vitals and informed Nurse #1 that she wasn't doing well. As the day went on, Resident #1 was still feeling bad. I asked Nurse #1 around 2:45pm, what would we do about Resident #1 because she was still doing bad. She raised her voice at me and stated I can't send her out for vomiting and diarrhea. I then walked away. Around (time unclear) she was looking yellow. I told NA #3 to look at her and she agreed with me. I then went to RN supervisor and asked her to look at Resident #1 and she stated I'm sending her out, I've called EMS! Nurse #1 was asked to get oxygen for Resident #1. After about, [DATE] minutes, I looked for Nurse #1. She was at the nurse's station doing her MARS (Medication Administration Records). I asked Nurse #1 where was the oxygen? Nurse #1 stated I don't have keys to the room and I'm not on the hall anymore. She never got the oxygen that the RN supervisor asked her to get.
Review of the written statement by RN supervisor read in part On [DATE] st around lunchtime, I was called to (Resident #1's) room. When I entered the room, Nurse #1 was cleaning up some vomitus off the resident's gown. The vomitus appeared to be some of the food resident was eating. Then around 4:45 pm, I was called to (Resident #1's) room again. This time I was greeted by the resident's family member who asked if I could help her with Resident #1. I asked her what she needed me to do and she stated Resident #1 was not doing good. I asked her what she thought was different about Resident #1. She told me that Resident #1 was swollen, that her color was not good and that she was not acting right. I told the resident's family member that I could send Resident #1 out to the hospital for evaluation and she agreed. After the resident's family member was out of the room, I quickly assessed the resident. EMS and the attending physician were called. Nurse #1 did offer to get the oxygen but did not immediately because EMS had already been called. However after a few minutes and the fact that EMS had not gotten there, I asked the CNA to have Nurse #1 get oxygen. CNA came back to the room and stated that Nurse #1 said she was off the floor and someone else needed to get the oxygen. EMS arrived shortly and resident was transferred to the hospital.
Review of the local hospital emergency room report documented when EMS arrived, the patient was basically a [MEDICATION NAME] (sic) and blood pressure was in the 60 systolic. On [DATE] at 2:55 pm in an interview, the attending physician stated the sooner a resident is evaluated, the more likely the outcome would be different for the resident. After discussing the reports per the staff of the resident having nausea and vomiting, low blood pressure reading and yellow skin discoloration, the physician further stated, The three symptoms together meant something was going wrong here.
During an interview on [DATE] at 11:48 am, the Director of Emergency Services stated Resident #1 was cyanotic (blue in color) from a lack of oxygen on EMS arrival to the facility. He further stated the resident did not have a palpable pulse at the wrist due to the low blood pressure. He stated EMS was not able to obtain a blood pressure initially but the first obtainable blood pressure was, [DATE]. The resident died on [DATE].
Personal Note from NHAA Advocates: NHAA shares with all the families of loved ones who are confined to nursing homes the pain and anguish of putting them in the care of someone else. We expect our loved ones to be treated with dignity and honor in the homes we place them. We cannot emphasize enough to family members of nursing home residents; frequent visits are essential to our loved ones' well-being and safety. This nursing home and many others across the country are cited for abuse and neglect.
You can make a difference. If you have a loved one living in this nursing home or any other nursing home where you suspect any form of abuse or neglect, contact us immediately.
We can help you file a state complaint, hire a specialized nursing home attorney or help you find a more suitable location for your loved one.
Contact us through our CONTACT FORM located on our website here below or on the sidebar or call our toll free hot line number: 1-800-645-5262.
You can make a difference even if your loved one has already passed away.