Posted on Nov 22, 2017 in
Blog
|
0 comments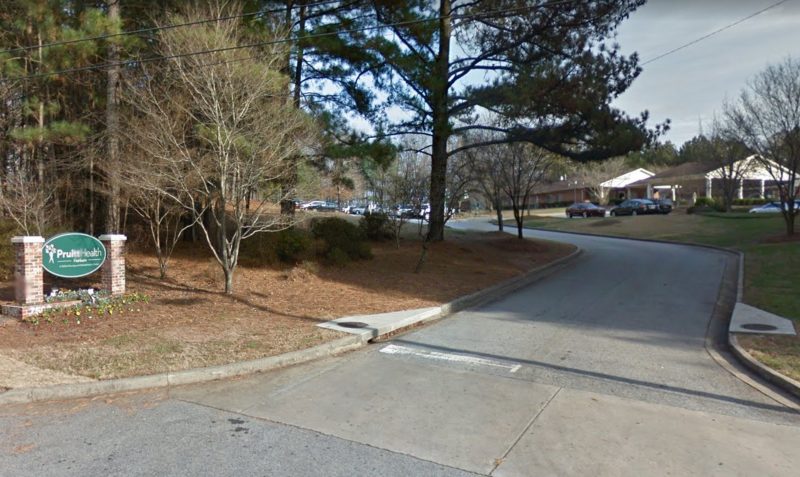 PRUITTHEALTH – FAIRBURN
LOCATED: 7560 BUTNER ROAD, FAIRBURN, GA 30213
PRUITTHEALTH – FAIRBURN was cited by the DEPARTMENT OF HEALTH AND HUMAN SERVICES CENTERS FOR MEDICARE & MEDICAID SERVICES for the following deficiencies:
PLEASE NOTE: The following highlighted quoted text is only a portion of the full report/survey submitted by DEPARTMENT OF HEALTH AND HUMAN SERVICES CENTERS FOR MEDICARE & MEDICAID SERVICES. The full report/survey can be found here.
 FACILITY FAILED TO PROPERLY CARE FOR RESIDENTS NEEDING SPECIAL SERVICES, INCLUDING: INJECTIONS, COLOSTOMY, UREOSTOMY, ILEOSTOMY, TRACHEOSTOMY CARE, TRACHEAL SUCTIONING, RESPIRATORY CARE, FOOT CARE AND PROSTHESES
**NOTE- TERMS IN BRACKETS HAVE BEEN EDITED TO PROTECT CONFIDENTIALITY**
Based on observations, staff, resident and family interviews, and record reviews the facility failed to ensure one resident (R#188) from a total of 29 sample residents received the necessary care and treatment including medical and nursing care services for the use and monitoring of a specialized device; an external defibrillator. The facility Administrative Staff (Director of Nursing, Nurse Consultant, Administrator nor his Attending Physician (whom was also the Medical Director) were unaware of the Life Vest being applied on R#188 which placed him at risk because; an immediate follow up with a cardiologist was required when the Life Vest needed to be reloaded after a treatment shock. A subsequent discharge from the Life Vest could be ineffective, and could result in death, and potentially cause serious skin burns. Staff were being placed at risk for incidental shocks by not having appropriate training and education. R#188 was in immediate danger of injury or death due to the facility's failures.
On 7/31/17 4:55 p.m., during an attempt to do a resident interview as part of survey process, a large (approximately 5.1 x 6.125 X 1.6 inches) monitor of some sort was observed to be around R#188's neck, with a black strap. Review of R#188's clinical record, revealed no documentation either in Progress Notes, Physician Orders or the Care Plan regarding the device.
A subsequent telephone interview on 7/31/17 at 6:10 p.m., with the family of R#188 (as he was initially not available due to sleeping and in therapy) revealed it was a Life Vest monitor. The family member stated R#188 had the device prior to being admitted to the facility, but upon discharge from the hospitalization (6/18/17 – 7/18/17) it was determined the Life Vest could not be applied until the sutures were removed. The family member stated it was reapplied on 7/27/17 while R#188 was at his cardiologist. The family member stated she had discussed the device with the nurse on duty (several phone messages to that nurse went unreturned). The nurse told the family member she had heard of the Life Vest but had no experience with it and had not been trained in its use. Further review of R#188's clinical record, revealed the nurse did not document the device being in place, or completed any type of assessment of R#188 upon his return from the cardiologist. There was no documented evidence the facility tried to follow up by phone with the cardiologist.
A record review of the Care Plan for R#188, initiated 7/20/17, with updates noted 7/28/17 and 7/31/17, revealed there was no mention of the resident having a Life Vest in place. There was no documentation in the Progress Notes, by nursing, indicating the presence of the Life Vest. There was no physician's order for the use of [REDACTED]
Further interview with the DON and the NC revealed they both indicated their surprise that no one had reached out in the five days since R#188 had the vest placed, to follow up with nursing and/or the physician. They continued to indicate both had heard of the Life Vest but had not had specific training regarding its use and/or oversight required for both resident and staff safety. The DON revealed they sent paperwork with all residents when they go to a doctor's appointment (which consisted of a face sheet, current Medication Administration Records (MARs), and blank Progress Notes). The NC indicated it was the facility's expectation the physician's office document any treatments or new orders on the provided Progress Notes. She further revealed they did not receive anything back from the cardiologist visit on 7/27/17 and no one called the cardiologist's office to inquire if there were any changes or new orders.
On 8/2/17 at 2:00 p.m., revealed the DON previously independently interviewed his staff and provided the surveyor with the following results: Out of six CNAs, eight LPNs and one RN, he documented 11 of 15 staff members did not notice the device at all, and four staff members seen it and did not report it to anyone. He did express his disappointment in the lack of communication.
Personal Note from NHAA – Advocates: NHAA shares with all the families of loved ones who are confined to nursing homes the pain and anguish of putting them in the care of someone else. We expect our loved ones to be treated with dignity and honor in the homes we place them. We cannot emphasize enough to family members of nursing home residents; frequent visits are essential to our loved ones' well-being and safety. This nursing home and many others across the country are cited for abuse and neglect.
You can make a difference. If you have a loved one living in this nursing home or any other nursing home where you suspect any form of abuse or neglect, contact us immediately.
We have helped many already and we can help you and your loved one as well by filing a state complaint, hiring a specialized nursing home attorney or helping you find a more suitable location for your loved one.
Contact us through our CONTACT FORM located on our website here below or on the sidebar or call our toll free hot line number: 1-800-645-5262.
You can make a difference even if your loved one has already passed away.