Posted on May 21, 2014 in
Blog
|
2 comments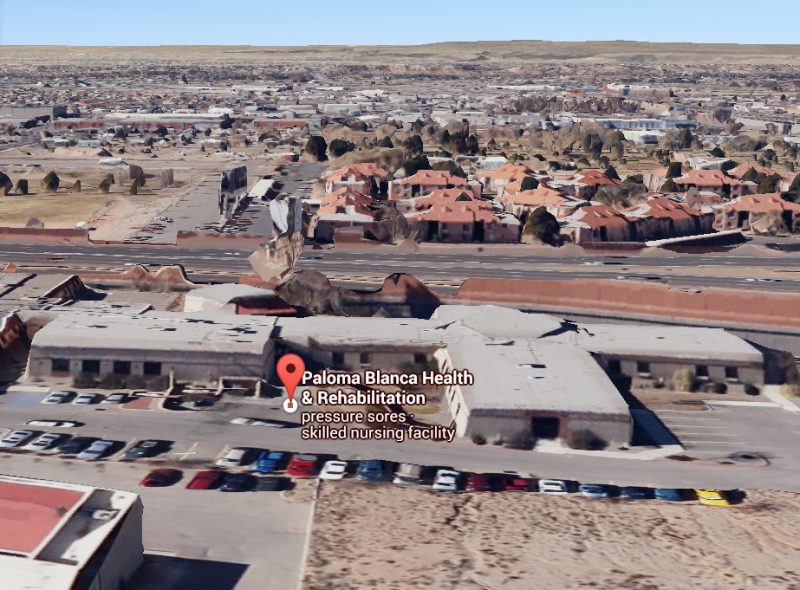 PALOMA BLANCA HEALTH AND REHABILITATION
Located: 1509 UNIVERSITY BOULEVARD NE, ALBUQUERQUE, NM 87102
PALOMA BLANCA HEALTH AND REHABILITATION was cited in 2013 multiple times separately for the SAME following deficiencies by the DEPARTMENT OF HEALTH AND HUMAN SERVICES CENTERS FOR MEDICARE & MEDICAID SERVICES:
PLEASE NOTE: The following highlighted quoted text is only a portion of the full report/survey. The full and complete report(s)/survey(s) can be found here and here.
DEVELOP/IMPLEMENT ABUSE/NEGLECT. ETC POLICIES – JANUARY OF 2013
Based on record review, interview and observation, the facility failed to follow their policy on Resident Abuse by failing to ensure that injuries of unknown source were reported to appropriate facility staff, investigated and reported to the State Survey and Certification Agency for 1 (#1) of 1 sampled residents (#1) who presented with bruising to the forehead, arms and legs for which the cause was not determined by the facility. There was no report sent to the State survey and Certification Agency. There was also no evidence that the resident was protected from additional bruising of unknown source, The failure to investigate the causes of the bruising is likely to have resulted in the lack of recognition of the resultant Disseminated Intravascular Coagulopathy (DIC-a serious medical condition that develops when the normal balance between bleeding and clotting is disturbed … excessive bleeding and clotting injures body organs and causes anemia or death).
DEFICIENCIES (REPEATED DEFICIENCIES NEARLY ONE YEAR LATER) – NOVEMBER 2013

INVESTIGATE/REPORT ALLEGATIONS/INDIVIDUALS
The facility failed to immediately report to the Administrator and State Agency (SA) incidents of possible neglect or abuse for 2 (R #6 & #11) of 2 (R #6 & #11) residents. R #6 sustained a head injury while being transferred from the bed to wheelchair via a Hoyer lift [an assistive device that allows patients to be transferred between a bed and a chair]. This incident was not reported or investigated.
DEVELOP/IMPLEMENT ABUSE/NEGLECT, ETC POLICIES
The facility failed to implement the written policies and procedures for reporting and investigating possible allegations of abuse and neglect
Continuing: During the incident, CNA [identified as CNA #1] was changing the patient from her night clothes to her day clothes and he was "too rough" in the patients words. The patient cried out 'Help, don't do that. You are hurting me.' But, reports he continued to change her. He also hurt her when he repositioned her in her wheelchair."
Continuing:  On 10/01/13 at 12:35 pm, during interview R #11 stated, "There was a man, a black man who was very rough with me. He was pulling on my legs when he was trying to dress me. I kept hollering for him to stop but he didn't. He kept pushing my legs and hurting me. I told the nurse and I told my family. It happened in the morning time. He was dressing me. He was just hurting me. I asked him to stop. There was no-one else here in my room. All I know was that I was hurting when he was doing that. I was uncomfortable."
Continuing: Based on record review and interviews, the facility failed to follow 1 (R #6) of 1 (R #6) physician's comprehensive plan of care
Continuing: On 09/27/13 at 1 :40 pm, during interview the Administrator stated, that in this case the care plan was not being followed and there was harm done to the patient … "In my opinion, there was neglect to follow the plan of care and neglect to follow our own policy."
COMMITTEE-MEMBERS/MEET QUARTERLY/PLANS
Based on interview and record review, the facility failed to ensure that the quarterly quality assurance [QAJ meetings had Medical Director representation since March 2013. This failed practice could result in quality issues not being communicated and continuity of care addressed which presents a risk of potential harm to 107 residents per alphabetical list provided by the Administrator on 11/12/13.
Personal Note from NHAA Advocates: NHAA shares with all the families of loved ones who are confined to nursing homes the pain and anguish of putting them in the care of someone else. We expect our loved ones to be treated with dignity and honor in the homes we place them. We cannot emphasize enough to family members of nursing home residents; frequent visits are essential to our loved ones' well-being and safety. This nursing home and many others across the country are cited for abuse and neglect.
You can make a difference. If you have a loved one living in this nursing home or any other nursing home where you suspect any form of abuse or neglect, contact us immediately. We can help you file a state complaint, hire a specialized nursing home attorney or help you find a more suitable location for your loved one.
Share your story with us, spread the word and HELP STOP THE ABUSE AND NEGLECT! 
Contact us through our CONTACT FORM located on our website here or call our toll free hot line number: 1-800-645-5262
You can make a difference even if your loved one has already passed away