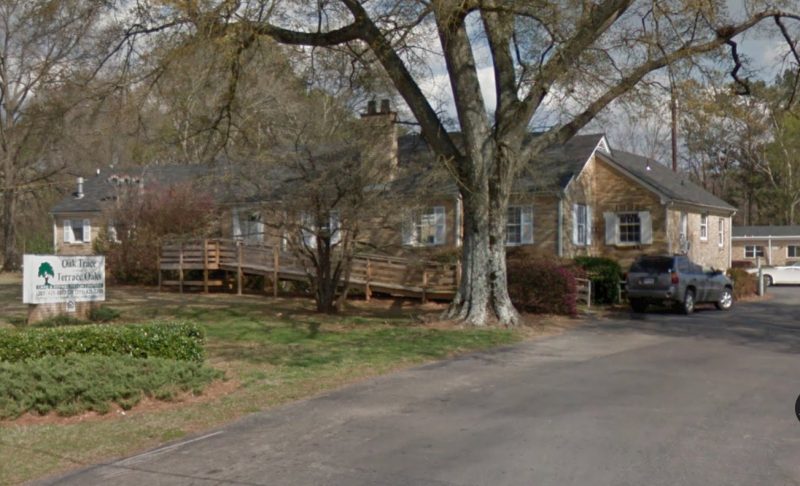 TERRACE OAKS CARE & REHABILITATION CENTER
LOCATED: 4201 BESSEMER SUPER HIGHWAY, BESSEMER, AL 35020
TERRACE OAKS CARE & REHABILITATION CENTER was cited by the DEPARTMENT OF HEALTH AND HUMAN SERVICES CENTERS FOR MEDICARE & MEDICAID SERVICES for the following deficiencies:
PLEASE NOTE: The following highlighted quoted text is only a portion of the full report/survey submitted by DEPARTMENT OF HEALTH AND HUMAN SERVICES CENTERS FOR MEDICARE & MEDICAID SERVICES. The full report/survey can be found here.
FACILITY FAILED TO PROVIDE NECESSARY CARE AND SERVICES TO MAINTAIN THE HIGHEST WELL BEING OF EACH RESIDENT
LEVEL OF HARM –IMMEDIATE JEOPARDY
**NOTE- TERMS IN BRACKETS HAVE BEEN EDITED TO PROTECT CONFIDENTIALITY**
Based on interviews, review of Resident Identifier (RI) #1's medical record, the facility's admission packet, the facility's investigative file and the 2010 American Heart Association Guidelines for Cardiopulmonary Resuscitation and Emergency Cardiovascular Care, the facility failed to ensure Employee Identifier (EI) #1, a Licensed Practical Nurse (LPN), promptly provided Cardiopulmonary Resuscitation (CPR), to RI #1, a resident with Full Code status. Code status describes what type of intervention a health care facility will conduct should a resident stop breathing and/or heart stops beating. Full Code status means when a resident stops breathing and/or heart stops beating, staff are to immediately initiate emergency medical services, Cardiopulmonary Resuscitation (CPR), in an attempt to revive the resident. On [DATE] at 1:50 AM, EI #3, a Certified Nursing Assistant (CNA) noticed RI #1 was breathing funny and alerted the nurse, EI #1. EI #1 went into RI #1's room, cleaned the resident's mouth of a white foamy substance and noted RI #1 had shallow breathing. EI #1 left the resident's room to obtain an oxygen saturation monitor located at the nurses' station approximately 56 feet from RI #1's room. When EI #1 returned to the resident's room, EI #3, the CNA told EI #1 that she thought RI #1 was gone (no longer alive). EI #1 went back into RI #1's room to assess the resident's vital signs. After EI #1 could not obtain a pulse or respirations on RI #1, she instructed the CNA staff (EI #3 and EI #4) to change RI #1's incontinence brief (diaper). Instead of initiating CPR and directing the CNA staff to activate the emergency response system, EI #1 left the resident's room to call 911. After the CNA staff completed incontinence care, which took approximately five to 10 minutes, on RI #1, who had no pulse, CPR was initiated. When emergency medical services (EMS) arrived on the scene, they found RI #1 unresponsive, pupils fixed and dilated, without breath, or a pulse. RI #1 was pronounced dead at 2:14 AM on [DATE]. This deficient practice affected RI #1; one of four sampled residents reviewed for emergency response, and placed RI #1 in immediate jeopardy because it was likely to cause serious injury, harm or death.
Personal Note from NHAA Advocates: NHAA shares with all the families of loved ones who are confined to nursing homes the pain and anguish of putting them in the care of someone else. We expect our loved ones to be treated with dignity and honor in the homes we place them. We cannot emphasize enough to family members of nursing home residents; frequent visits are essential to our loved ones' well-being and safety. This nursing home and many others across the country are cited for abuse and neglect.
You can make a difference. If you have a loved one living in this nursing home or any other nursing home where you suspect any form of abuse or neglect, contact us immediately.
We can help you file a state complaint, hire a specialized nursing home attorney or help you find a more suitable location for your loved one.
Contact us through our CONTACT FORM located on our website here below or on the sidebar or call our toll free hot line number: 1-800-645-5262.
You can make a difference even if your loved one has already passed away.